News
EU 'TRIPS Waiver' proposal a mere face-saving exercise
Faced with pressure from governments of the Global South and campaigners worldwide, the European Union has been forced to backtrack on its blanket opposition to a temporary waiver of patent protections for Covid-19 vaccines and treatments.
The EU has stood isolated in its refusal to accept a TRIPS Waiver proposed by India and South Africa in the World Trade Organization (WTO).
On its face, this shift in position is a welcome move. The EU has been fiercely criticised for protecting the profits of its pharmaceutical industry while millions of people continue to die. Could it be that it finally puts people before the profits of Big Pharma?
The Left has analysed the details of the EU's proposal and sees it as nothing more than a face-saving exercise. What the EU presents as 'compromise' is actually a repackaging of old proposals with minor adaptations. The proposal has the potential to make things worse. It adds new restrictions and requirements that currently don't exist and will undermine existing flexibilities.
"Under the pressure of years of mobilization, the EU finally reluctantly admits that patents are an obstacle to global vaccine access. However, it's only words," @BotengaM comments on news of a potential #TRIPSwaiver compromise under the framework of the @wto. pic.twitter.com/6dkKdCpY6g

— The Left in the European Parliament (@Left_EU) March 16, 2022
In practice, access to Covid-19 vaccines and treatments will continue to be severely hampered for developing countries, and people will continue to die. Worse, the pandemic is likely to be extended if conditions remain for the emergence of dangerous variants.
Therefore, the EU's so-called compromise proposal is a win for pharmaceutical companies and their lobbying for intellectual property protections over essential medicines. The proposal is limited in scope, covering only vaccines and in reach, excluding several developing countries.
Practically speaking, the EU's proposal won't lead to an increase in vaccine production. It does not waive patents, and it does nothing to facilitate the transfer of vaccine-making recipes and other technical know-how that enable vaccine production to countries that need it most.
The only effectively waived restrictions are those related to the export of generic vaccines. Otherwise, the EU merely reiterates existing flexibilities in the TRIPS agreement related to compulsory licenses while introducing new restrictions and requirements that currently do not exist and undermine existing flexibilities.
Below is our summary of the main elements of the EU's proposal compared with what the world needs to effectively fight the pandemic: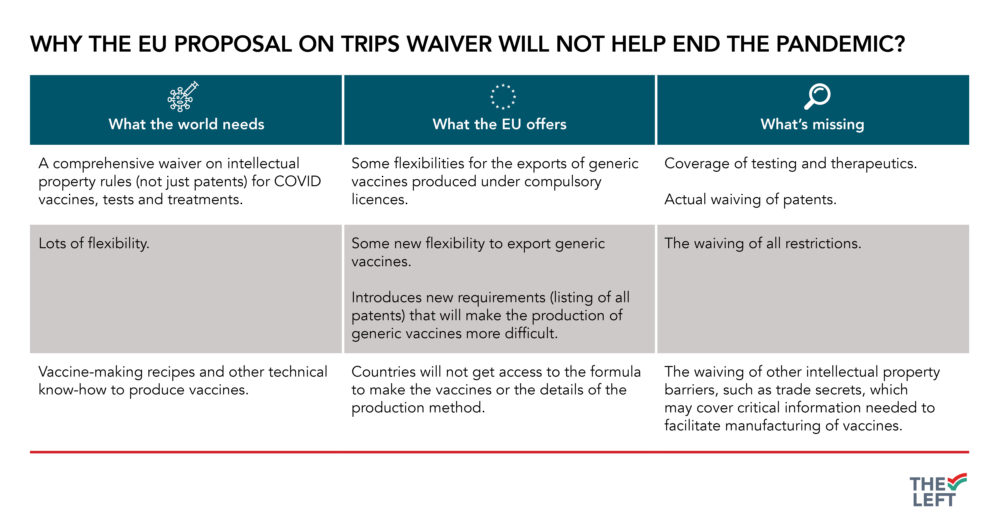 Related Meps